When is the best time to sell your home or property?
While we are Realtors in Santa Cruz County and the surrounding counties and the information we provide is based on those areas, the overall sentiment of this blog post is relevant to everyone who is thinking of selling. If you want to know how your market is, let us know, drop us a line and we will do some research for you and recommend some great local Realtors in your area.
There is no one "best" time to sell a house, as the housing market can vary depending on a variety of factors such as location, economic conditions, and supply and demand. That being said, there are certain times of year that tend to be more favorable for selling a house.
Here is an example of sales trends in 2022 for Santa Cruz County for residential sales by month.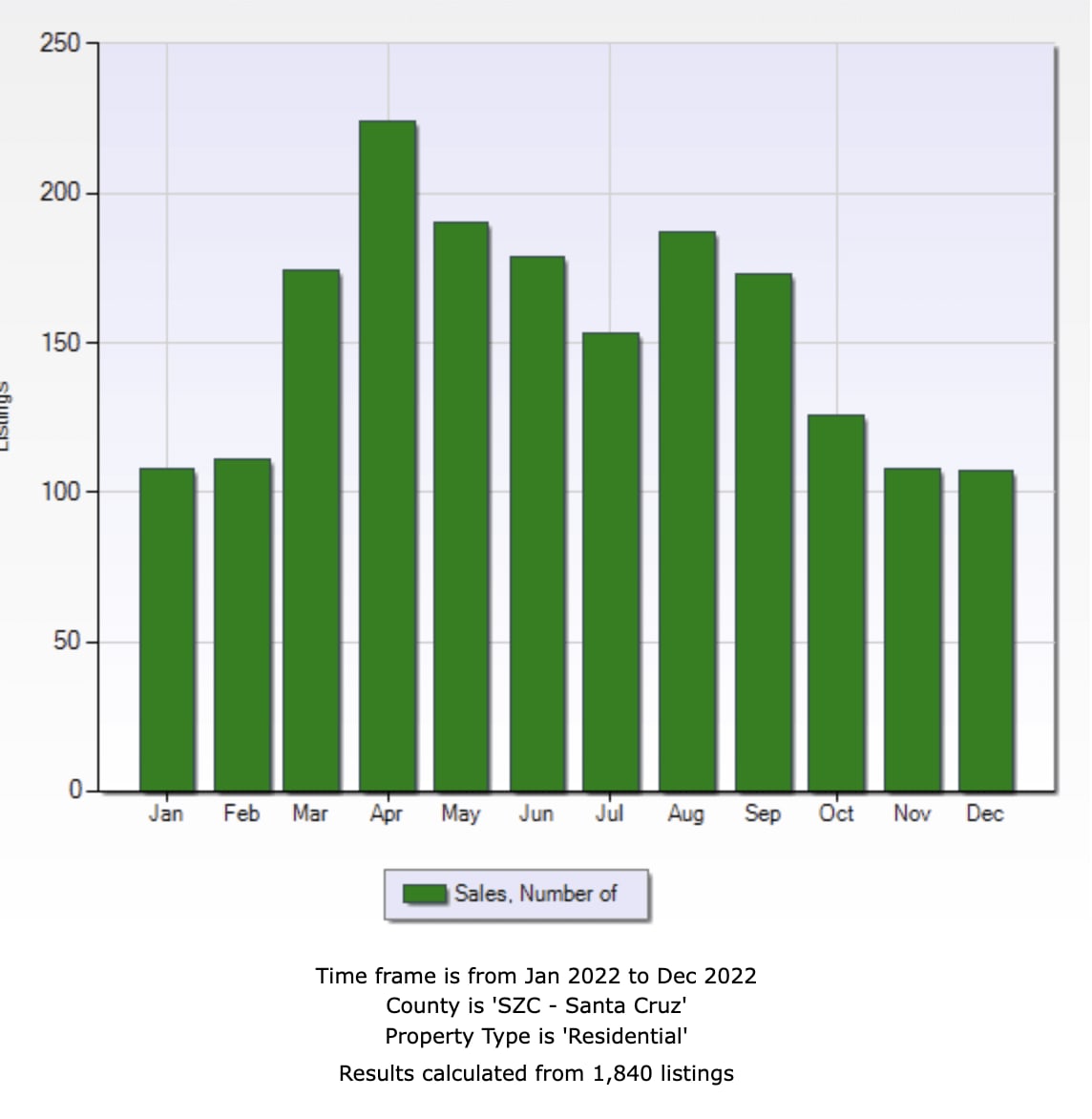 Traditionally, the spring and summer months are the busiest times of year for the housing market, as many people prefer to move when the weather is nicer. This increased demand can lead to higher prices for sellers. In contrast, the winter months tend to be slower for the housing market, as fewer people are interested in moving during the colder weather. However, if you need to sell your house quickly and are willing to accept a lower price, the slower winter market could be a good time to list your home.
Ultimately, the best time to sell your house will depend on your personal circumstances and goals. If you have the flexibility to wait for the right buyer and market conditions, it may be worth holding off on listing your home until you think you can get the best price. On the other hand, if you need to sell quickly, it may be more important to focus on finding a buyer as soon as possible.
Also, it is a smart idea to consult your Realtor for professional advice on timing. They have detailed market statistics that can help with the decision-making process. A good Realtor who has been doing business for some time also are likely to have Buyers looking to buy in your area.
For more information or a more detailed conversation feel free to reach out to us for more information.