In real estate, every sale is a unique story. It's a journey that often starts with a dream, and sometimes, an unusual twist of fate. In 2019, The Kroft Hulsey Team embarked on an extraordinary home-buying adventure with a wonderful couple. But this story isn't just about them; it's about the contagious love they had for Santa Cruz, a love that inspired their dearest friends to make the journey from Colorado to the heart of California's Central Coast and a surprising twist in their offer acceptance.
It Began With Younglove
It began with Younglove. No, that's not a typo. In 2019, a delightful couple discovered Liz Kroft and Lance Hulsey online and they had the honor of guiding them on their path to purchasing their dream home on Younglove Avenue, nestled in the desirable Lower Westside of Santa Cruz.
Their love for Santa Cruz was so infectious that it ignited a spark in the hearts of their closest friends, who decided to embark on a similar journey, relocating from Colorado to join them in the magic of Santa Cruz.
Shared Dreams and Coffee by the Beach
Their first meeting was at Java Junction, a cozy café on the sand by the Santa Cruz Harbor. Liz delved into their goals, wish lists, financing options, market insights, and the ever-important factor—timing. As the waves gently crashed nearby, they began crafting a plan to find "The One."
Persistence Pays Off
Finding the perfect home can be a challenging endeavor, especially when inventory is limited and you are honed in on a particular neighborhood and home. However, they were patient, and Liz and Lance were persistent. Together they explored several options, and though they missed out on some wonderful homes, everyone held onto the belief that "The One" was still out there.
The Moment of Discovery
That moment finally arrived when Lance spotted a listing online that caught his eye. He couldn't contain his excitement as he sent the listing details to our client, Olivia, with a note that read, "Be sure to check out photo number 17." Photo number 17 below revealed it all, the client's name is Olivia. It was a classic Westside Santa Cruz home that seemed tailor-made for our clients. With three bedrooms, space for a music studio, and timeless charm, it checked all the boxes. It wasn't just a house; it was THE HOME.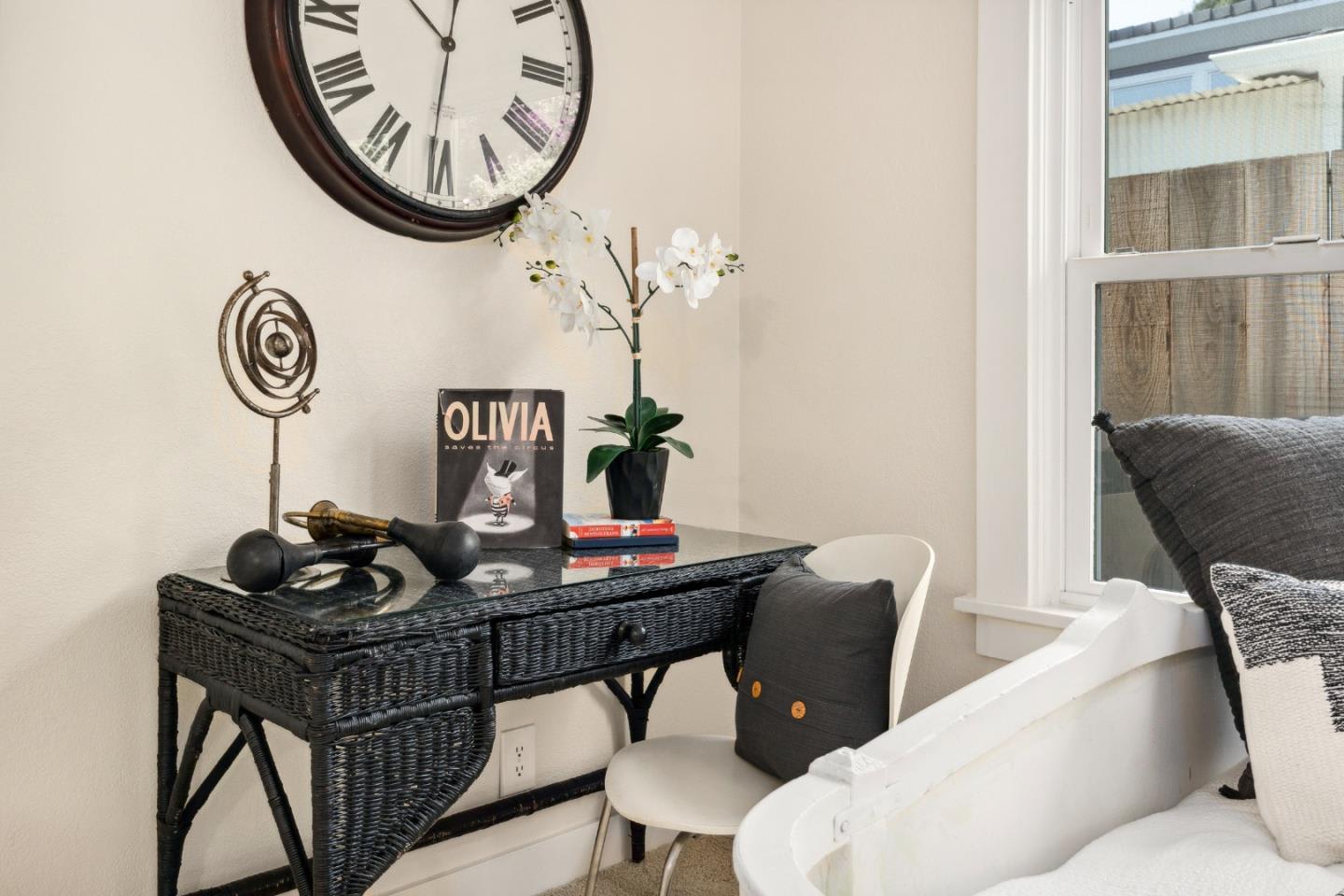 The Offer and the Unexpected
When you find "The One," emotions run high. It's time for careful planning and strategizing offer terms. Late-night phone calls, in-depth discussions with listing agents, and meticulous review of disclosures are all part of the process. Then, with bated breath, we hit "send" to submit the offer.
What everyone didn't expect was the response Liz and Lance received from the listing agent. After days of anticipation, their message arrived:
"Congrats! Thank you for writing a nice, clean offer. Your clients should be thankful to you both for writing a very straightforward offer, as the sellers decided to accept their offer without multiple counteroffers, despite another offer being much higher in price and another offer being all cash and similar in price."
To their surprise, the client's offer was accepted AS IS without any counter offer terms, and it wasn't even the highest or an all-cash offer. Why? Liz Kroft and Lance Hulsey's reputation as agents who get things done and the cleanliness of the offer terms spoke volumes.
A Successful Closing
Fast forward 30 days, and their clients are now the proud owners of an exceptional Westside Santa Cruz home. We couldn't be happier for them. Guiding families through the intricate landscape of real estate and helping them achieve homeownership is a privilege we cherish.
This success story is one they'll be sharing with friends and family for years to come.
Your Dream Home Awaits - If you're ready to begin your own journey to homeownership or are looking for your perfect property, The Kroft Hulsey Team is here to guide you. With experience and dedication, they'll help you turn your real estate dreams into reality. Contact them today to get started on your path to homeownership
831.854.7489 (Liz mobile)
831.295.8509 (Lance mobile)